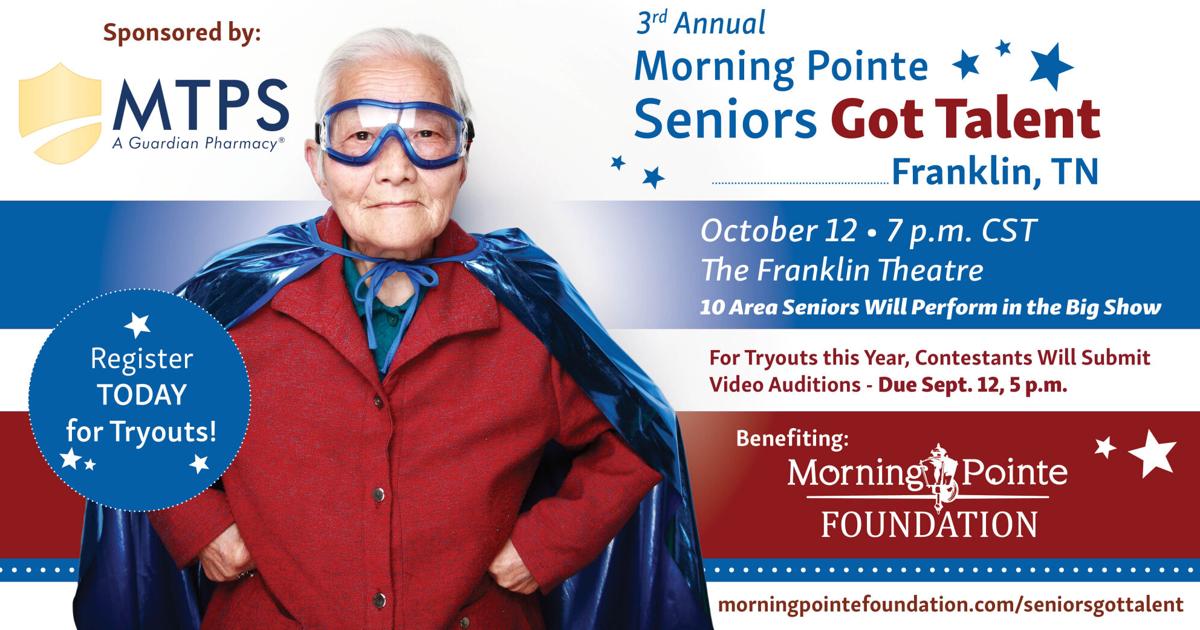 Morning Pointe to Bring Back Seniors Got Talent | Entertainment
Ten talented senior adults will have a chance to shine as part of the third annual Morning Pointe Seniors Got Talent, Franklin showcase on October 12 produced by the Morning Pointe Foundation in conjunction with Morning Pointe Senior Living at the Franklin Theatre.
Following in the footsteps of similar competitions in the Knoxville and Chattanooga areas, Morning Pointe seeks to showcase local senior talent and celebrate the young at heart. The show is back in person after a year-long hiatus due to the COVID-19 pandemic in 2020.
Auditions for Seniors Got Talent, Franklin will be held online through September 12. Entrants are not required to be residents of Morning Pointe; anyone age 62 or older can apply. Acts showcasing talent of all kinds are welcome but should not exceed three minutes. Ten seniors will ultimately be selected to star in the show. Aspiring artists can register to audition – as well as upload their audition file – by going to
www.morningpointefoundation.com/seniorsgotalent and clicking on the Franklin information box.
The grand finale of Seniors Got Talent, Franklin will take place at 7 p.m. on October 12 with local celebrity judges. Prizes will be awarded to the first, second and third place winners, including a cash prize of $250 for first place.
Tickets for the grand finale can be purchased at the door for $20 or online in advance at www.franklintheatre.com.
Those wishing to inquire about VIP sponsorships should contact Morning Pointe Foundation Executive Director Audra Hopkins at (423) 278-9738.
Last held in 2019, the Seniors Got Talent competition, Franklin featured some wonderfully entertaining acts that knocked the house down. The first place winners were husband and wife duo Ano (86) and Raphael Missirian (94), who sang a beautiful Armenian love song. Ventriloquist Ken Karter (84) took second place and Barbara Young (72), an accomplished stick twirler, took third place. John Oates of famed musical duo Hall & Oates served as special guest judge.
"This is definitely an event you won't want to miss. Our nominees are going to provide audiences with a hugely entertaining spectacle while providing them with an engaging opportunity to give back to a very worthy cause, support and education for aging caregivers, and scholarships for future nurses," Hopkins said.