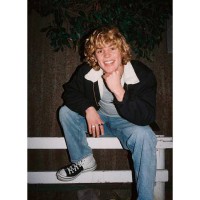 Realscreen » Archive » Wheelhouse DNA Reaches Content Deals, Launches Talent Management Division
Wheelhouse DNA, a division of Brent Montgomery's multi-vertical media company Wheelhouse, unveiled a new talent management division called Additive Creative, along with a variety of content partnerships with a number of influencers.
Additive Creative's talent roster includes online creators such as original Hype House member Jack Wright (pictured), Nicky Champa and Pierre Boo of TikTok fame, Twitch streamer Nick Bartels, Sarah and Leah Talabi, Bianca Antisera from Twitch and TikTok, TikTok chef Cassie Sharp and Spotify Daily Storybooth podcast host Jordyn Rolling.
Wheelhouse DNA has also signed 360° content deals with Wright, Champa and Boo for the company to create original programming for these influencers on their digital platforms, including TikTok, Snap and Instagram. The company will also develop podcasts and longer series for a range of entertainment buyers.
Wheelhouse DNA also announced several staff moves. Fanny Baudry (former Wheelhouse VP of Business Development) will join Chief Strategy Officer Ed Simpson to oversee Wheelhouse DNA as Managing Director and Adden Laughlin (former Wheelhouse Chief of Staff) as Chief Talent Officer . New hires include Leah Sutherland as chief content officer for podcasting, Spencer Strasmore as director of development and production, and Trent Barboza as director of production.
Further on the content front, entrepreneur and musician Alex Warren has signed a deal with Wheelhouse DNA for the company to produce his new vodcast (a podcast with audio and video components), Locked up with Alex Warren. The weekly series is set to premiere with audio on April 20 and video the following day, and will see Warren interview high profile guests to find out who they really are behind their social media profiles.
Fashion TikToker Anthony Reeves has also struck a deal with Wheelhouse DNA which will see the company be the exclusive producer of his YouTube channel. The two parties also signed a first-look deal to exclusively produce podcasts and long-form content.
"We originally launched Wheelhouse DNA because we saw how influencers had dramatically changed the content landscape by directly engaging with their huge fanbases," Simpson said in a press release.
"While the appetite for influencer content remains strong, many creators lack the professional production experience, connections and guidance needed to establish legacy careers. We are confident that with Wheelhouse's development and production apparatus, our new additive management division and our savvy management team, we will be able to help talent navigate these waters and develop their activities.